Back To Our Services
Modern technologies come bearing gifts and are full of surprises! We follow changes in our field and every single repairman at "Gate Repair Queens" has the expertise to install and efficiently program intercoms. If you want to increase security at the rolling gate, there is nothing more to think about. Contact our company and our Intercom System specialists will give you all the information you need, great options and immediate services. If you already have intercoms installed, you can rely on our professionalism to respond fast to your requests for intercom gate repair and maintenance. In any case, you can be sure of our knowledge of these systems and our knowhow to fix them.
Intercom Systems and Excellent Services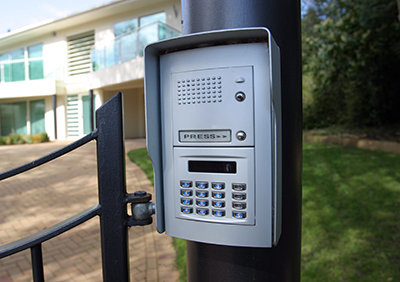 If you are still wondering whether an Intercom System will make a difference to your life, consider all the benefits. You can have as many access codes as you wish for easy entrance for you and your family through the automatic roll up. You can surely have temporary codes for some visitors or seasonal employees. The intercom is usually connected to the existing system and phone at your property, is wireless and may have a colorful camera. You can have a clear view of who is standing at your entrance, both ways communication with the visitors and the possibility to deny or grant access by just pressing one button to open the automatic rolling gate.
It is the most convenient way to control the opening and closing of the storefront gate. It's the best method to keep secure and rest assured that these systems are perfectly safe. With the great services of our contractors at Rolling Gate Repair Queens you can be sure that the system will work fine, will be upgraded eventually, and all problems will be solved immediately. We do offer repair for every intercom system and actually we are at your service any time for urgent problems. We are familiar with all brands and program Doorking and Aiphone intercoms, install and repair them. Don't hesitate to seek more information from our company!
Back To Our Services