Back To Our Services
Electric Gate Motor Repair
If the motor has just stopped working and your gate cannot be opened automatically, count on us to step in and solve the problem fast. The problem could be with the wiring, the circuit board or the motor itself. We'll run a check to determine the exact cause. If the motor or circuit board has failed completely, count on us for quick replacement. What if there are strange noises coming out of the motor unit? In this case, you most likely have a broken hardware part such as a gear or a chain. Rely on us to change it without wasting time. Our services cover all openers, regardless of their type, specs and manufacturer.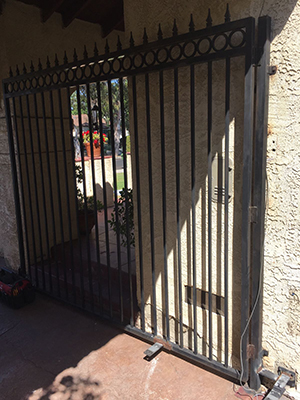 Fixing and Replacing Electric Gate Hardware
Whether you have a sliding or a swing gate, you should know that its smooth operation depends primarily on the moving and stationary metal parts. If you hear squeaks or other strange noises or the gate seems uneven, don't hesitate to give us a call right away. The sooner the problem is solved, the better. We straighten bent tracks, adjust wheels and repair the hinge welding. If a component is greatly damaged, completely worn or broken, rely on us to replace it fast. In case you have a broken electric opener chain, for example, we will remove the parts of the old chain safely and install a new one which is made to last. You can expect accurate tension adjustment, even if it involves removing links from the chain.
Maintenance for Residential Electric Gates
From running tests to replacing worn parts, we do all the work to ensure that your gate runs optimally, while you will have more time to do the things that you love. Our maintenance service covers everything, from the panels and posts to the electric gate operator and its accessories. We follow a strict schedule to give your unit the care which it needs timely. Count on us to readjust the settings, to fix damage such as decay and rust, to stabilize posts and to give all moving metal components proper lubrication. Since preventive repair and replacement are integral parts of our service, you can have complete peace of mind that your gate will be safe and secure and work flawlessly.

If you're experiencing problems with your electric gate, get in touch with us to hire our maintenance service. At Gate Repair Queens, we are always here to help.
Back To Our Services